————————————————————————————————————————————————————————————————————–
In our newsletter, Near & Far, we digitally travel to locations all around the world, explore a region's unique environment and culture, and share stories of local community impact. Subscribe to receive our emails every other week!
LOCATION: VIRGIN GORDA, BRITISH VIRGIN ISLANDS
ABOUT THE PLACE
Nestled in the Caribbean Sea, the BVI boasts turquoise waters, coral reefs, and lush hills. With a history dating back to indigenous peoples and pirates, these islands celebrate culture through music, art, cuisine, and festivals.
The British Virgin Islands consists of 4 major islands (Tortola, Anegada, Virgin Gorda, and Jost Van Dyke), and 32 smaller islands and islets.
Despite its relatively small size, the British Virgin Islands host an impressive range of ecosystems, including coastal mangroves, dry forests, and rocky shores, contributing to their status as a biodiversity hotspot.
The BVI's history of indigenous, European, and African influences has led to a rich cultural fusion that is reflected in its cuisine, music, dance, and traditions.
ART & CULTURE
Fungi Music
Fungi (pronounced "foon-gee") is a traditional music style that originated in the British Virgin Islands. Fungi music is characterized by its use of local instruments such as the fungi drum, which is made from a calabash gourd, and various percussion instruments. The lyrics of Fungi songs often reflect everyday life, culture, and folklore in the BVI.
Fish and Fungi Dish
Fish and Fungi, the British Virgin Islands national dish. Surprisingly, the 'Fungi' in this dish is not related to mushrooms, but instead a delicious mixture of okra and cornmeal. The two ingredients are boiled together with butter and are typically served with a variety of fresh seafood. With the addition of tomatoes, onions and other traditional spices, this dish has been described as similar to Italian polenta in flavor and consistency.
Instructions:
To make the fish, put all the ingredients into a large saucepan and bring to a boil. Cover and reduce heat, simmering for 20 to 30 minutes or until the fish flakes with a fork. Garnish with sliced lime.
To make the fungi, bring the water to a boil and add the frozen okra.
In a separate bowl, blend 2 tbsp of the cornmeal with about 6 tbsp water. Pour into the pot with the boiling water and okra and let cook for one minute.
Slowly pour the rest of the cornmeal into the pan, stirring constantly. Add the butter and salt and pepper, continuing to cook for 5 minutes. Serve hot.
Source: www.food.com
Ingredients
For the Fish;
2 1⁄4lbs firm white fish
1⁄2teaspoon Accent seasoning
1cup water
1teaspoon margarine
1medium onion, cut into large chunks
1small tomatoes, chopped
1 1⁄2teaspoons vinegar
4 1⁄2teaspoons lemons or 4 1/2 teaspoons lime juice
1lime, sliced
For the Fungi
5ounces frozen cut okra
3⁄4cup fine yellow cornmeal
1 1⁄4cups boiling water
1tablespoon butter
1⁄8teaspoon salt
pepper
Local Artist
There are many artists in the British Virgin Islands who use a multitude of interdisciplinary techniques to create paintings, murals, jewelry and so many other types of art. One such artist is Ruben Vanterpool who paints canvases and murals depicting life as he knew it when he was younger.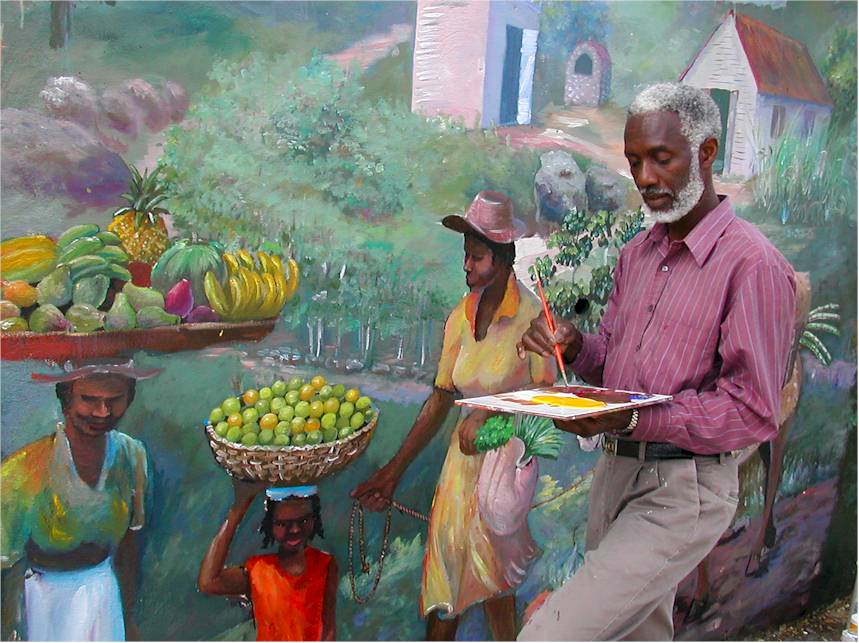 Virgin Gorda is the 3rd largest and 2nd most populated of the islands. It is a popular destination for sailing, snorkeling, diving and hiking. Virgin Gorda is home to some celebrities and billionaires, such as Morgan Freeman and Sir Richard Branson.
Virgin Gorda, like the rest of the BVI, faces some social issues such as poverty, inequality, crime and unemployment. These issues are partly caused by the dependence on tourism, which is vulnerable to external shocks, such as pandemics, recessions and natural disasters. The gap between the rich and the poor is also widened by the presence of celebrities and billionaires on the island. These issues affect the youth, who may lack opportunities, resources and support.
Sporting initiatives for the youth in Virgin Gorda are a great way to address these issues and empower them to achieve their potential. Sports can provide them with skills, talents and confidence that can help them in their personal and professional lives. Sports can also offer them a positive outlet for their energy, creativity and emotions, and provide a sense of belonging to a supportive community. Sports can also foster social cohesion, community engagement and cultural pride, as well as healthy lifestyles, education and career prospects.
ABOUT THE PROJECT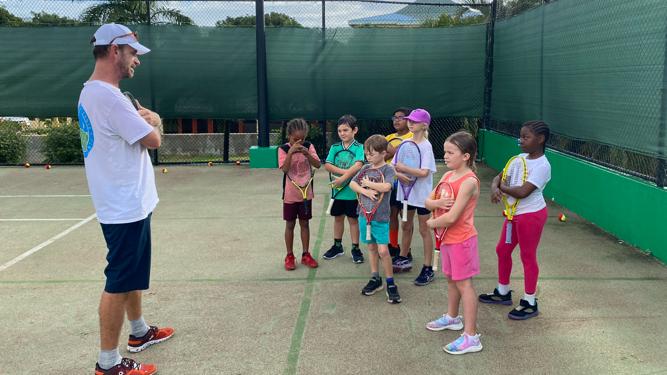 Guided by a profound connection to the BVI, Arthur Hicks melds 25 years of coaching with 15 years of residency, igniting the academy. Recognizing untapped potential in local youth, and fulfilling a long time dream of bringing affordable tennis to the BVI, Arthur's vision combined with support has enabled us to provide quality coaching and resources.
During a vacation, co-project leaders Kai Abbott and Frank Van Ettan shared Arthur's vision and raised $30,000 to propel the project, providing equipment and resources. Our mission focuses on accessible and affordable tennis experiences for BVI's children, fostering youth development and healthier lives.
Our programs teach tennis skills progressively, from Red, Orange to Green-ball levels. We nurture physical health, sportsmanship, leadership, and confidence in children aged 6 to 18. We invest not only in young tennis players but also in youth coaching assistants, striking a balance between experience, income, and education.
Currently reaching approximately 40 kids officially enrolled through the yellow, red, and green ball programs, but due to constant enthusiasm, sometimes you just find kids showing up to the programs because of growing popularity and exposure on the island.
The project seeks to expand its impact by involving more youth, grouping them based on desire and ability. Enhanced talent development opportunities, including scholarships and mentorship, are on the horizon. The ultimate goal is a legacy of tennis excellence and empowerment within the BVI.
Our commitment extends beyond the present, evolving programs based on feedback, reaching more children, and fostering skilled tennis players. Our aspiration is a sustainable future for tennis in the BVI. We look forward to nurturing our own coaches, players who earn scholarships to universities around the world, and perhaps even Virgin Gorda's first Grand Slam Champion! Through end of term tournaments that are open to all kids on the island, we have discovered a growing interest in local businesses willing to sponsor the club and support the cause.
---
ABOUT THE PROJECT LEADERS
Arthur Hicks
Arthur Hicks, founder of Arthur Hicks Tennis, began his tennis journey at age 4 in his London backyard. With 25+ years of coaching, he's a U.S.P.T.R qualified coach for all levels. As a Twice Middlesex U21 Champion, he became Head Coach at Virgin Active Sports Centre, West London. Recruited by Sir Richard Branson to coach on Necker Island, he fell in love with the Caribbean, inspiring him to create Arthur Hicks Tennis in Virgin Gorda, BVI. His vision is to foster a safe and enjoyable environment for people of all ages to learn tennis, with the potential for skill growth and even pursuing professional careers or coaching roles. in the tennis world.
Kai Abbott
Kai, a 16-year-old student at Horace Mann School in Riverdale, NYC, is the co-project leader of the Arthur Hicks Youth Tennis Academy. Alongside Arthur Hicks and Frank van Etten, Kai is dedicated to providing young individuals with an opportunity to learn and excel in tennis. A long time friend of Arthur Hicks, Kai has been visiting the British Virgin Islands since he was two months old. He became involved in the project in June 2022.
Frank van Etten
Frank van Etten, a Dutch national, has lived in New York for over 15 years. As a seasoned business professional, Frank brings a wealth of financial and operational expertise to the Arthur Hicks Youth Tennis Academy. He joined the project in June 2022 as a co-project leader alongside Kai. Together with Arthur Hicks, the trio is committed to offering individuals a chance to learn and excel in tennis.
"Since I was 2 months old I have been coming to the BVI, and I have known Arthur for about 15 years. For as long as I have known him, he has dreamed of setting up an accessible and affordable tennis academy in Virgin Gorda, where the youth of the land could have the opportunity to play the sport he so loved. Last June while there, I along with long time friend Frank Van Etten, had the opportunity to volunteer at the club during one of the first youth academy clinics. After helping out for 3 hours on court as waves of children came and went, Frank and I saw Arthur's vision in action, making us want to move heaven and Earth to help Arthur accomplish his long time dream of fully establishing the club.
With the help of an incredibly successful fundraiser last fall, we were able to raise more than $30,000 dollars to purchase state of the art equipment for the facilities, but more importantly the children, who now had new rackets, shoes, water bottles, hats, and more. Furthermore, we are able to offer local young adults the ability to assist the program, offering them valuable work experience. Today, Arthur, Frank, and I's commitment to offer more children the opportunity of this wonderful sport is unwavering, and we are very proud and excited to see where this journey goes."
– Kai Abbott
Now, the tennis academy is looking to engage more children in the program and train additional local youth leaders. It costs approximately $60 to $100 to provide materials for one new participant, including a racket, shoes, and a hat. If you wish to contribute, giving a child the opportunity to participate in this sport, you can learn more below.